" />Just got back from my first big trip on the XR.  
 2000 miles to the Spanish Pyrenees and back. It was all on tarmac and very well made farm tracks, so not really what the BRP's for, but my mates have big BMW GS's and a Multistrada, so off roading was a non-starter.  
I needed the trip to get to know the bike and give me a bit of confidence in its long distance usefulness and durability. It didn't disappoint. Even 400miles of Autoroutes at 70-80mph were no problem. I've got a gel seat so that probably helped a lot.
Handling on the twisty mountain passes was fantastic and there was more than enough grunt to get past the cars quickly and keep up with my mates. The  Continental TKCs were just brilliant on dry, twisty tarmac, although 2000 miles has just about done them in.
MPG was always about 45-50.
I used about half a litre of oil and had to top it up at the end of every day.
I was a bit worried about the jetting as I think I run rich at sea level. I think the highest pass was about 2200m, and it didn't seem to falter at all, and always started no problem.
Now the planning starts for a proper off road trip next year.  
 Maybe Portugal or Morocco, or maybe even back to the Pyrenees
" />
" />
" />
" />
" />
" />
" />
" />

R056rx

XRR Jockey




Joined

: 2013-11-16



Posts

: 99


Location

: Winchester


XR650R Year

: 2002



I might join you next year if the xr its finished , also with transalp 650 and aprilia capponord 1200  

Out last weekend -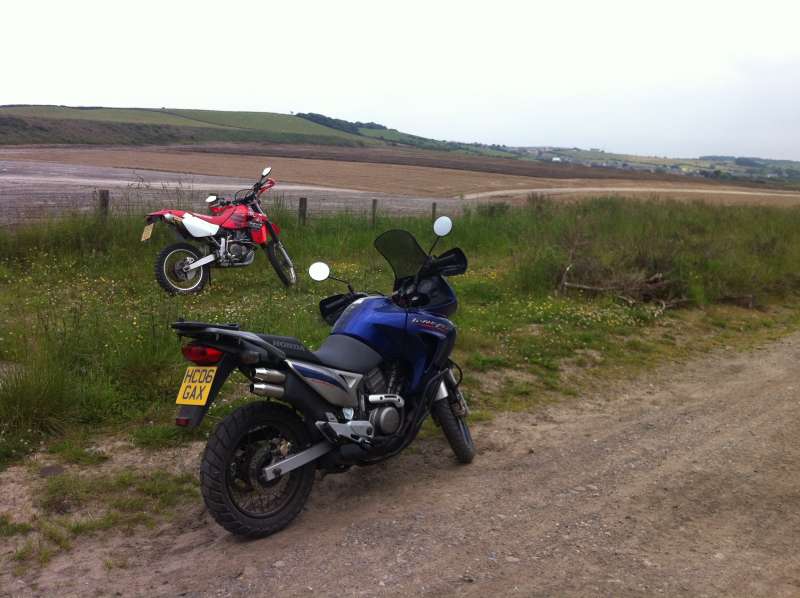 Mad Frosty

XRR Monger




Joined

: 2012-11-26



Posts

: 1179


Location

: UK


XR650R Year

: 2000



You'd be very welcome Frosty. It looks like those bikes need to get dirty!   


R056rx

XRR Jockey




Joined

: 2013-11-16



Posts

: 99


Location

: Winchester


XR650R Year

: 2002



There was some dust on the rims that is as dirty as i like it  


Mad Frosty

XRR Monger




Joined

: 2012-11-26



Posts

: 1179


Location

: UK


XR650R Year

: 2000




---
Permissions in this forum:
You
cannot
reply to topics in this forum