Can someone please tell me what colour wires the indicators and relay need to be connected to?
no point reading my manual it only shows 650r without them
looked at a few diagrams and none have helped

torqueandpower

L Rider




Joined

: 2015-08-14



Posts

: 30


Location

: west midlands


XR650R Year

: 2002



This is assuming the bike is a non us model;
I used one of these with led indicators
http://www.ebay.co.uk/itm/281271462254
There should be a plug with three wires behind the headlight, the colours i think are black, grey/white & grey
If i remember correctly i wired as follows;
relays wire red wire to black (which is + on the 650)
relays wire black to green (- on the 650)
relays wire green connected to the two other wires (i think were grey/white and grey)
The front indicator wires are orange and light blue, the read are orange/white and light blue/white.
May be worth noting that the indicators are on the DC side of the circuit.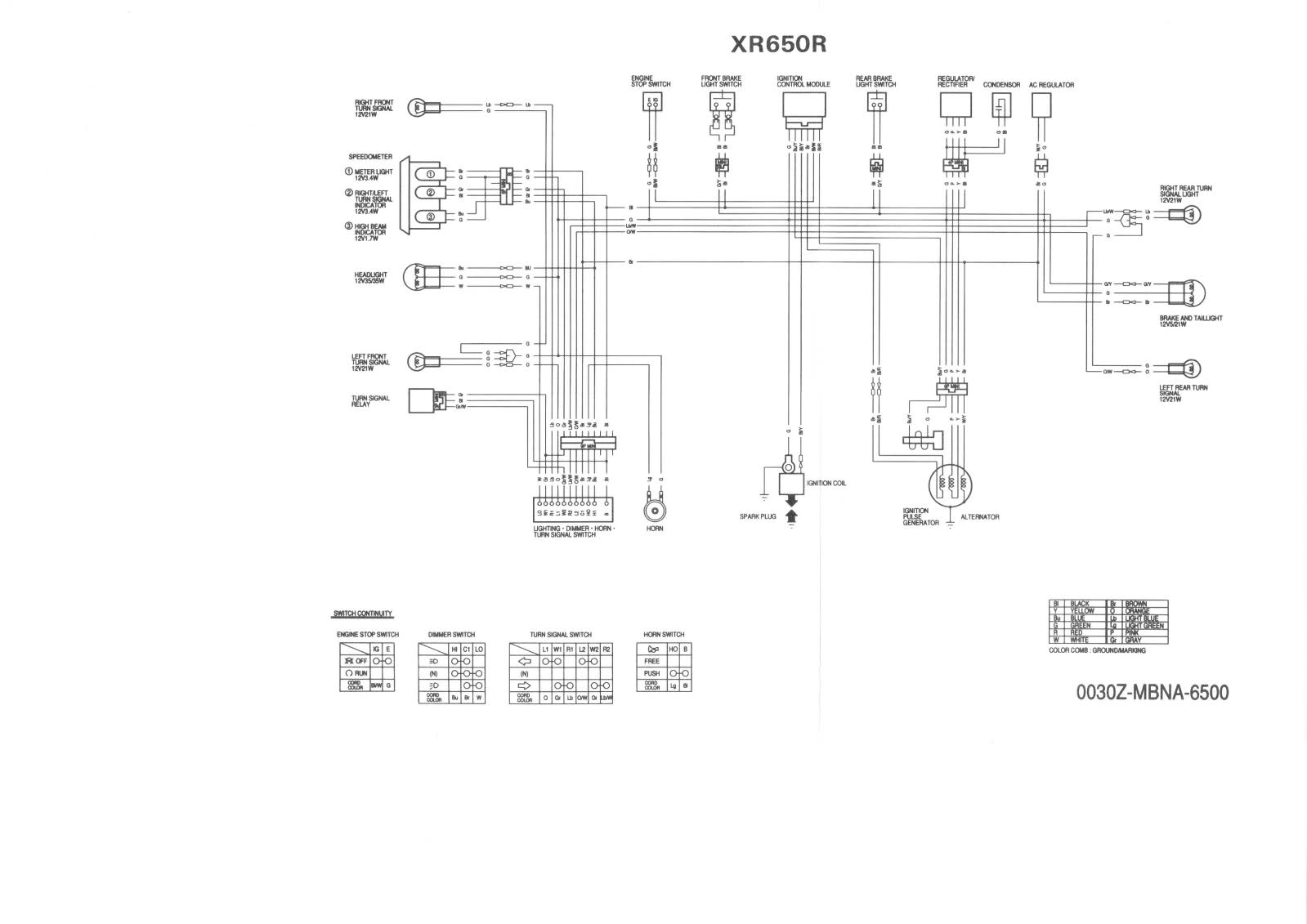 appleseed

XRR Jockey




Joined

: 2014-10-09



Posts

: 166


Location

: United Kingdom


XR650R Year

: 2000



Must spend some time and draw up a complete UK loom that you can actually read lol...

_________________
Current ~  XR650R ~ RT2 360 ~ ZX12-R ~ DT175MX
Previous Bikes XR250R ~ DT125R ~ GPZ1100 ~ RD350LC ~ XL125R ~ MT5

Mauser

Administrator




Joined

: 2010-09-13



Posts

: 1897


Location

: UK


XR650R Year

: 2002



Last edited by appleseed on Mon Sep 07, 2015 10:34 am; edited 1 time in total

appleseed

XRR Jockey




Joined

: 2014-10-09



Posts

: 166


Location

: United Kingdom


XR650R Year

: 2000




Hendrik

L Rider




Joined

: 2015-04-24



Posts

: 13


Location

: Stellenbosch, South Africa


XR650R Year

: 2000




---
Permissions in this forum:
You
cannot
reply to topics in this forum