So this is a bit of a sob story, partially a confession. Feel free to pass on by (or delete it if you're the mod).

I've had my 650R for a bit. I went from a 2008 Kawasaki KLR650 to a 2001 XR650L to a 2001 XR650R maybe two years ago.

It was road converted, uncorked, with an exhaust, foam air filter and Edelbrock Quicksilver. The lighting/ power/ conversion job was godawful so I've been muddling through that. Initially I just fixed the original owner's ****ed up stuff but now I've realized the BD kit keeps the AC system and adds a DC on top of it. And well, that's just unacceptable. The next step was to tear out the Frankenstein-ed wiring harness and run both stator loops through a beefier rectifier, eliminating the AC powered accessories (just the headlight, I believe) altogether.

So... before finishing up the harness, I decided she needed a much-neglected comprehensive run-down of the maintenance list. It's been a bit meandering... much like this post... having done the fuel line, fuel strainer screen, throttle op, air cleaner (found and fixed an improperly mated intake tube and learned how to tear down and tune the Edelbrock carb at this point), spark plug, oil filter, engine oil filter, engine oil strainer screen in down tube... and that was it.

I misread the f***ing service manual and thought it said to clean the oil strainer screen in the bottom of the crankcase as part of the regular maintenance. As I came to find out, that was a terrible friggin idea. The crankcase gasket came off in many pieces- that was fun. So I got a new one of those. Then the clicky style torque wrench I was using failed numerous times and the kickstart gear kept seizing upon final torqueing of the crankcase. Since then, due to the number of times I've had to remove that godda***d cover, I've managed to snap three screws, strip out two sets of threads, tear my new crankcase gasket, break my hand (punching something in frustration), break my impact driver, and start destroying my clutch basket nut.

Best I can figure, the kickstart return spring is distorting too much, causing the final torqueing of the crankcase cover to catch it in there or something. I've got the clutch down to the stake at this point but the POS won't come off. I guess if I can figure that out- either the stake nut or the spring- I might actually be able to see this through. Any thoughts? Besides how much of a f***ing idiot I am? (I'm seriously considering throwing all my tools in a giant pile of thermite, punching holes through the block and head with a hammer drill, and giving up engineering/ technical anything at this point.)
Last edited by theironblitz on Sat Apr 08, 2017 9:19 am; edited 1 time in total (Reason for editing : Forgot parentheses.)

theironblitz

L Rider




Joined

: 2017-04-08



Posts

: 2


Location

: OKC


XR650R Year

: 2001



Shame you were not local I would be right over and take away the stress....sounds like something is as you state stopping the right cover going back fully home....I have had mine off several times and never experienced any issues it simple pops back on and pushes fully flat; then just nip the bolts up and job done. Replacing a few bolts and getting another gasket are no sweat, have you managed to sort repairing the stripped threads ? Helicoil or some other for of insert might be called for. so it does sounds like your kick-start spring etc is fowling up, do these help ?

_________________
Current ~  XR650R ~ RT2 360 ~ ZX12-R ~ DT175MX
Previous Bikes XR250R ~ DT125R ~ GPZ1100 ~ RD350LC ~ XL125R ~ MT5

Mauser

Administrator




Joined

: 2010-09-13



Posts

: 1940


Location

: UK


XR650R Year

: 2002



Yeah, I've helicoiled the two stripped threads. The reason that happened is that the cover wasn't going on flush and I used bolts that had caught maybe only a thread or two to pull it flush. Rookie mistake. Besides that, I played a little musical chairs with the bolts. Got a brand new one from Honda fer one of em and two are from the local hardware store. The gasket that I ripped, ripped to the outside of a bolt hole, so I think it'll still do its job of gasketing. Even if it does not, I have another new one. So now the question is of removing the friggin clutch basket stake, so I can remover the idler, so I can remove the kickstarter gear and replace the spring. Looks like I've managed to wedge down the inner/ lower material of the nut stake rather than push it away from the shaft groove.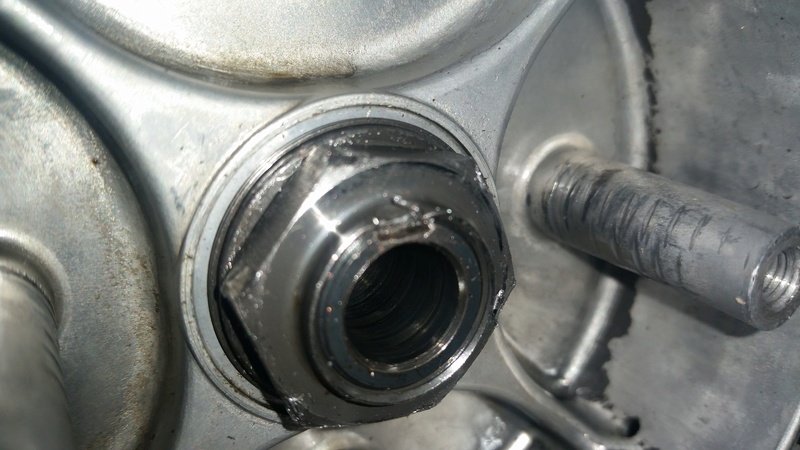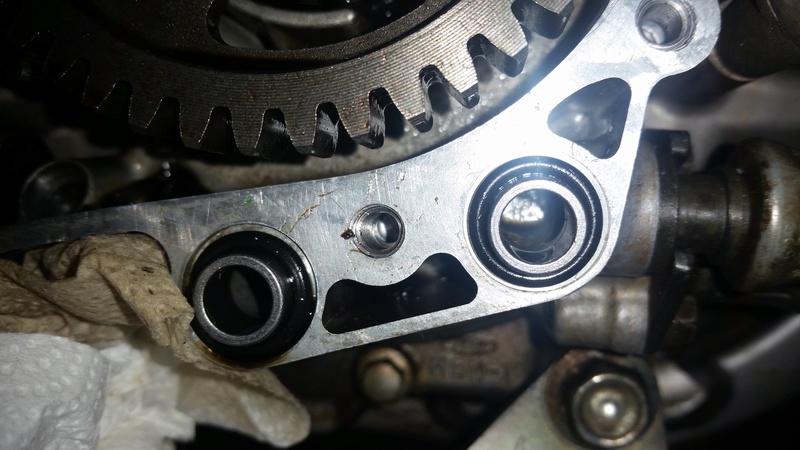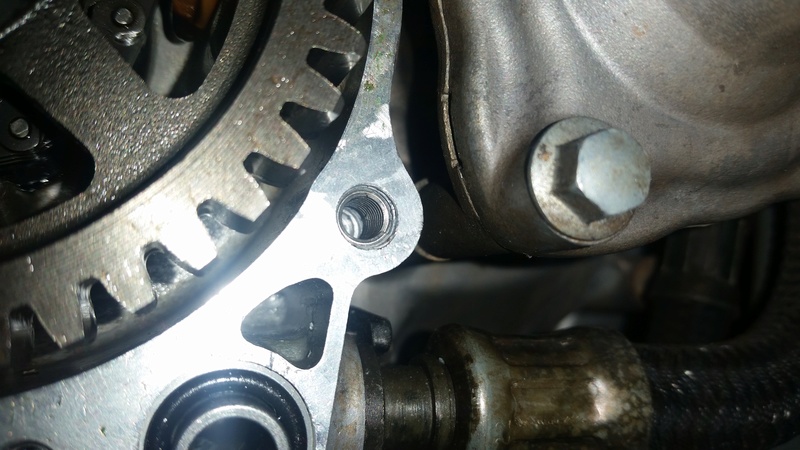 Last edited by theironblitz on Sun Apr 09, 2017 5:39 am; edited 2 times in total (Reason for editing : Posted additional, better image.)

theironblitz

L Rider




Joined

: 2017-04-08



Posts

: 2


Location

: OKC


XR650R Year

: 2001



I think you will need either a clutch holding tool...
Or a rattle gun same as they use in the tyre/tire shop to remove the wheel nuts....both are cheap and will do the job....but no good if you don't have an airline....

_________________
Current ~  XR650R ~ RT2 360 ~ ZX12-R ~ DT175MX
Previous Bikes XR250R ~ DT125R ~ GPZ1100 ~ RD350LC ~ XL125R ~ MT5

Mauser

Administrator




Joined

: 2010-09-13



Posts

: 1940


Location

: UK


XR650R Year

: 2002



---
Permissions in this forum:
You
cannot
reply to topics in this forum