Is anyone running an HID headlight?

If so, please tell us what you have and pros and cons of the HID system.

AURORA

XRR Freak




Joined

: 2008-12-09



Posts

: 689


Location

: PHOENIX


XR650R Year

: 2003



I have just completed the installation of a cheapo Chinese HID kit (A$49) with magnetically tilting bulb for dimming. I appears to work well, but I'll have to test it in 'real world' conditions for a while before passing ultimate judgement. It is AMAZINGLY bright, that I can say. I used the stock alternator setup with some minor wiring changes, complete replacement of all bulbs to LED to conserve power. All lights including the HID now runs of the DC circuit, which leaves the AC for heated grips and the horn. There is no need to install a high wattage alternator, but the HID requires a good current to start and that needs to be augmented. I installed a set of 3 LiIon cells which are separated by a Schottky diode from the lighting circuit so that the battery doesn't drain back into the system - it is only required to start the light and gets charged once the motor is running. I shall document this sometime and post here with diagrams & pictures (perhaps).
Last edited by vonkas on Wed Aug 25, 2010 6:21 am; edited 1 time in total

vonkas

L Rider




Joined

: 2009-10-21



Posts

: 5


Location

: WA


XR650R Year

: 2000



How much $$$$ do you want to spend?
Look here.
http://www.bajadesigns.com/NET/C-166/SINGLE+8-INCH+RACELIGHTS
They offer the above light with a battery (when you look at the link the bike they have pictured of a black sack on top of the light with all the electric stuff in it.), if you don't want to add one to the bike. K.I.S.S.
On my 650 I have the same light but with a 100 typical bulb in it. I want to upgrade when $$$ is avable.
Regards, Jim

GARTHE

L Rider




Joined

: 2009-11-07



Posts

: 10


Location

: Phoenix


XR650R Year

: 2001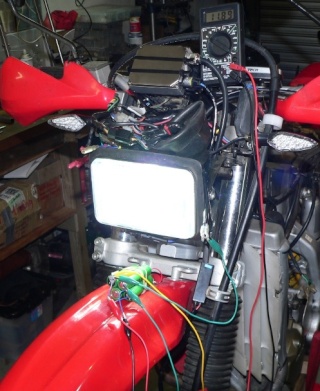 This is my experimental setup. The HID bulb fits into OEM reflector perfectly. In fact it focuses much better than the incandescent one. The inverter/starter (the so called ballast) is attached to the rubber mounted speedo. You can see the small battery required to start it when the motor is idling (and only then). I eventually replaced it with 3 flat LiIon cells out of a laptop battery pack. There is room for all the required parts to go behind the lamp shroud. Total cost was below $100, but you need to do the thinking and fiddling yourself, I guess most people will shy away from that and just buy the overpriced commercial kits.

vonkas

L Rider




Joined

: 2009-10-21



Posts

: 5


Location

: WA


XR650R Year

: 2000



Hello Vonkas, Please could you let us know about the HID lights you did? did you finish the write up about it with pics? I am really looking forward to do something about the shitty oem head lamp, can't see anything when it gets darker. Thanks

bikerman

XRR Jockey




Joined

: 2011-03-25



Posts

: 204


Location

: Maple, Vaughan Ontario, Canada


XR650R Year

: 2004



Just fitting a 35w front headlight to mine to compliment the plastic lens when it arrives...should be good for another 4HP I recon

_________________
Current ~  XR650R ~ XJR1300SP ~ ZX12-R ~ DT175MX
Previous Bikes XR250R ~ DT125R ~ GPZ1100 ~ RD350LC ~ XL125R ~ MT5

Mauser

Administrator




Joined

: 2010-09-13



Posts

: 1868


Location

: UK


XR650R Year

: 2002



Mauser Any pictures? come on we love pics! LOL

bikerman

XRR Jockey




Joined

: 2011-03-25



Posts

: 204


Location

: Maple, Vaughan Ontario, Canada


XR650R Year

: 2004




---
Permissions in this forum:
You
cannot
reply to topics in this forum