I recently purchased an 01 BRP and going through it and checking everything out.  The carb is a Mikuni TM40 pumper.  The problem is the previous owner is an idiot.
The accelerator pump piston and return spring were missing when I opened up the carb.  I could move the plunger externally but it wouldn't return so I assumed it was gummed up.  Nope just gone.
I have no idea how it ran without that as I assumed it would suck air from the plunger rod. (I know you can pull the plunger rod for testing and not have a leak but that is only when there is an accelerator pump piston where it should be.  I have an empty hole.)  Then I noticed the had a #40 pilot jet!  So needless to say I am ordering parts and starting from the general settings I have found on here and will adjust from there once I get all the parts.
My question is how does the accelerator pump system work...  There is a piston that is pushed by the plunger and it drives fuel to the accelerator pump jet which sprays on the needle to give that extra boost on accel.  The problem is I see no way for fuel to get to the accelerator piston or out of it.  I see the fitting that should transfer it to the jet but no path between the two.  The piston sits in a hole and there are no holes or ports inside it.
Can someone shed some light on this or pull your bowl and see what yours looks like.  I have several pictures of what I am talking about.
Also have a lot of electrical issues to sort out but I think I can take care of that.  The main power connections are made with 1/2 copper conduit smashed and soldered to hold 8 wires together.  Everything was wrapped up and looked nice from the outside.  It will all be right soon.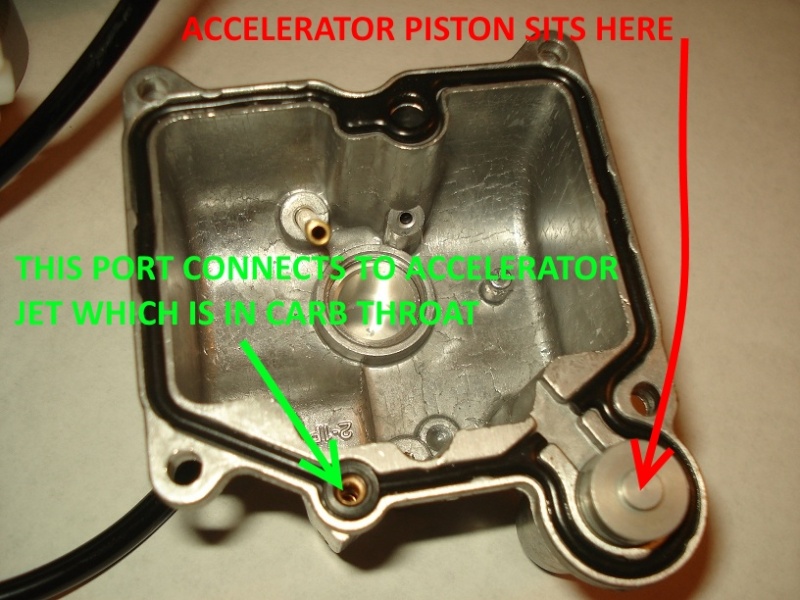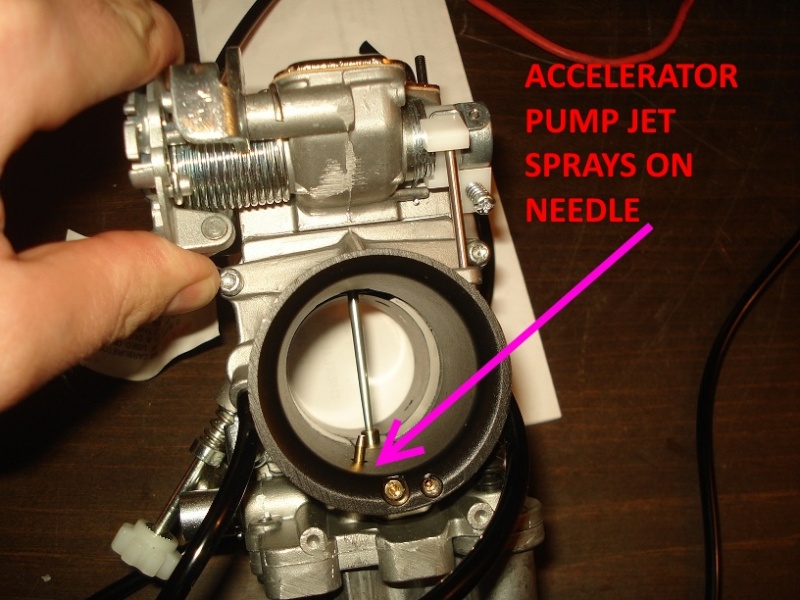 Thanks for the help!

jkuntz05

L Rider




Joined

: 2015-09-24



Posts

: 3


Location

: Abilene KS


XR650R Year

: 2001




Hew

XRR Freak




Joined

: 2009-01-03



Posts

: 284


Location

: North Wales, UK


XR650R Year

: 2005



The 650R electrics are spliced together with crimps....that's normal !!!

_________________
Current ~  XR650R ~ XJR1300SP ~ ZX12-R ~ DT175MX
Previous Bikes XR250R ~ DT125R ~ GPZ1100 ~ RD350LC ~ XL125R ~ MT5

Mauser

Administrator




Joined

: 2010-09-13



Posts

: 1866


Location

: UK


XR650R Year

: 2002



Getting through a few more things.  Local Harley shop had genuine Mikuni jets on hand and under $2 each so I bought a bunch for testing. The other carb parts will be here on Monday.  
Pulled out majority of old wiring and ready to wire new and proper.  Crimps are perfectly fine, what was on the bike (picture) is not. Also found a large group of wires twisted together, covered in electrical tape, and then a wire nut over them?!?  
Front axle pinch bolts were all about two turns from being seated, much less tight.  Brakes flushed with all new fluid.  Valves were already perfect.  Foot peg doesn't look like it has ever been ran loose and the frame holes aren't wallered out.  It does have a nicely re-wound stator.  Everything else seems to be in really great shape.  
Is there an easy way to check for the infamous snotty shock fluid up front without removing everything?  If I loosen the top triple clamp can I carefully remove the top shock cap (being careful to not knock my self in the head with the spring)?
Previous owner had this setup for autobahn cruising.  15-38 sprockets on dirt tires.  But I have a setup to put back to factory so will probably go with a 15 48 setup.  Maybe get a 45 rear.  At least he had front and rears balanced.
Thanks for the help and comments!

jkuntz05

L Rider




Joined

: 2015-09-24



Posts

: 3


Location

: Abilene KS


XR650R Year

: 2001




_________________
Current ~  XR650R ~ XJR1300SP ~ ZX12-R ~ DT175MX
Previous Bikes XR250R ~ DT125R ~ GPZ1100 ~ RD350LC ~ XL125R ~ MT5

Mauser

Administrator




Joined

: 2010-09-13



Posts

: 1866


Location

: UK


XR650R Year

: 2002




---
Permissions in this forum:
You
cannot
reply to topics in this forum