Guest

Guest





Nice lookin XRR. Great to have you on the forum!

Hodakaguy

Hodakaguy

XRR Jockey




Joined

: 2008-11-07



Posts

: 226


Location

: Eastern WA State


XR650R Year

: 2003



I noticed your chain guard, any chance you could let me know if this is something you fabed or is there somewhere to purchase one?

deadly99

L Rider




Joined

: 2008-11-19



Posts

: 11


Location

: Ottawa Canada


XR650R Year

: 2000



deadly,
Dude, you have a sharp eye! Long story, but it is fabbed (barely) from XR650L chainguard ($40 from Dennis Kirk, IIRC) and 5" length of 1/8" aluminum angle (bulk stock from Home Despot); fastened with pipe clamp (about 3") over rubber adhesive tape with the (red cover still adhered). Only fabbing was grinding (only fabbing tool I have) the alum stock through at the angle for about 1/8" through slot to attach clamp.
You can read about it here:
http://www.advrider.com/forums/showpost.php?p=3354022&postcount=126
Lots of folks have commented that the plastic guard rubs the tire - worrying about 'friction loss' of power ?!
Beauty of the pig; I could be dragging my brake pads and not notice. As for wearing away the fender guard, hasn't happened and I consider it a 'wearing surface' anyway. BTW, the nuts and bolts that came to mount the fender on the XRL were good to mount on my setup as I recall.
new install: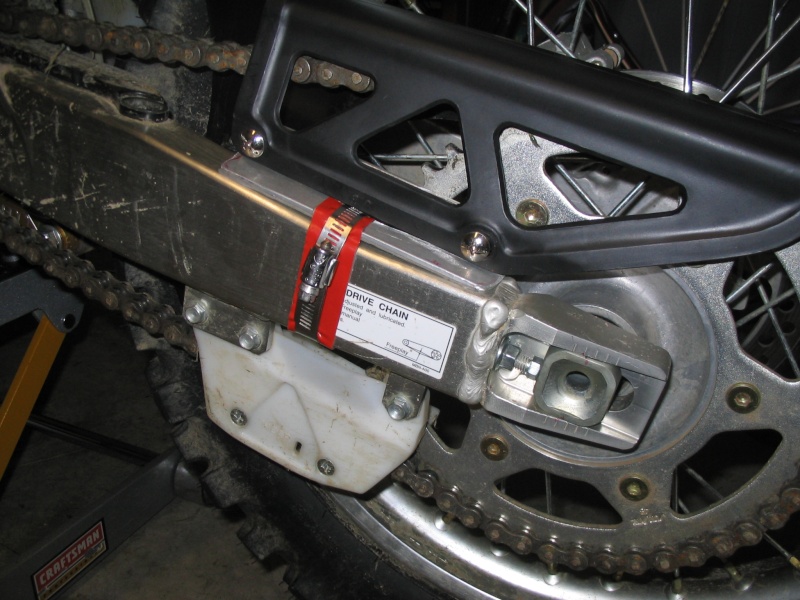 ...and proof of mud: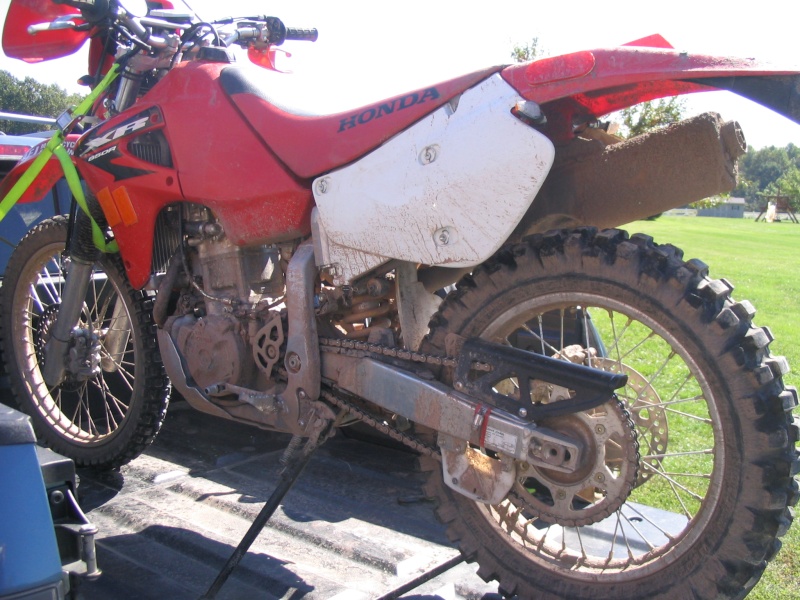 Needed it for plating in Muddyland and guys were saying you only need it to get the tags but it hasn't been a problem so it's still on there.
Hope this helps.

Guest

Guest





Good looking pig! Welcome to the site.

Thunderchild

XRR Jockey




Joined

: 2008-11-20



Posts

: 62


Location

: North Texas


XR650R Year

: 2000



XRR, I just noticed the MFI stickers. I used to go by there often. I have some high school friends that used to run the joint working there. Where in MD are you? That one pic on the sand road looks like the Pine Barrens 500. Did you go up there this year?

Doug

AtomicXRer

XRR Jockey




Joined

: 2008-12-01



Posts

: 193


Location

: Los Alamos, Northern NM


XR650R Year

: 2005



Dem MFI girls are everywhere!

Welcome XRR!
Just found this forum.
www.borynack.com/XR650R
XR680R wrote:Just found this forum.

www.borynack.com/XR650R
The forum is still in its infancy...In fact it just a month old. It's hard spreading the word but so far with an exception of a few personal invites its been by word of mouth.
Glad you made it.
I guess I wont's have to ask - "Have you taken it off any sweet jumps"?
---
Permissions in this forum:
You
cannot
reply to topics in this forum