Hey guys!
I'd like to introduce myself, my name is Ash. Its been a while since I've owned an XR650R but am keen to get another. I bought a brand new one in 2001 when I was working in a Honda dealer. I owned it for two weeks and did 796km's before being hit head on by a car whilst riding home from work. My poor bike snapped in two and the back half melted to the ground. I have kept the front half as a memento to surviving such a crash.
Anyway, I've just moved out to a fairly rural location with loads of twisty roads and hills. Perfect fast supermoto stuff. So I'm keen to build myself a new bike. Just waiting for the right one to turn up but am in no rush. One always does if you just wait.
Here's a photo of what's left of my first 650.
Cheers!!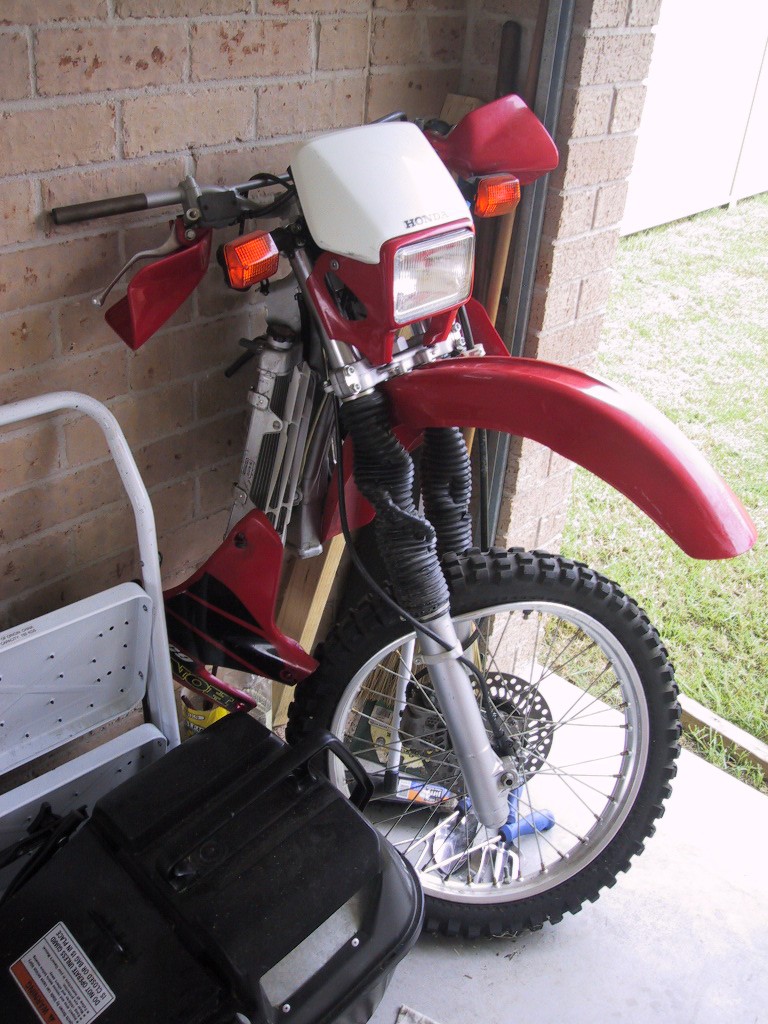 Ash

L Rider




Joined

: 2010-03-10



Posts

: 5


Location

: Australia - NSW


XR650R Year

: 2001



It would be great if the rest of the bike was on the outside of that garage!
You should mount it on the wall like a buck.
Good to have ya!
I wish it were too. I was extremely shocked at how the frame ripped apart. I still have a few pieces from the back end which I hope to use for my next one.

Plan is to mount it up on my new shed wall with my other memorabilia was we move into our new house in a couple of months.

Cheers!

Ash

L Rider




Joined

: 2010-03-10



Posts

: 5


Location

: Australia - NSW


XR650R Year

: 2001



damn
R.I.P to that xr650r
good to know you survived the crash
greets from the netherlands

rikco

XRR Jockey




Joined

: 2010-01-01



Posts

: 227


Location

: The Netherlands


XR650R Year

: 2000



Hello there Netherlands!
Only just survived. My parents were told by the doctors that my back pack was the only thing that stopped my neck breaking. I woke up in hospital about 24 hours after. All I remember is seeing the car, hitting the brakes, then flying over the top of the car looking backwards at it. Took me a while to walk again and had about 12 months of physio but I'm still here. Have had plenty of bikes since. Just been a couple of years now since I've ridden as I sold my fireblade just before my daughter was born and she is now 2.

Ash

L Rider




Joined

: 2010-03-10



Posts

: 5


Location

: Australia - NSW


XR650R Year

: 2001




Bump

XRR Monger




Joined

: 2009-01-28



Posts

: 1144


Location

: Canyon Lake, So Cal


XR650R Year

: 2002



Similar topics
---
Permissions in this forum:
You
cannot
reply to topics in this forum